To begin using this auto message, you must have the birthday as a column of your list. This auto-message series works well with Anniversary dates of any kind as long as the date is a column in your list. Another everyday use for this auto message series is the anniversary of when they became your customer. Examples of that date could be when they were created (added to your list) or the date of their first purchase.
You will also need to create the personalized birthday message you wish to send.
STEP 1
Navigate to the Tools tab of your account. From there, you will select AutoMessages.

STEP 2
You will then find the button shown below that says:
+ NEW AUTOMESSAGE
Then you can select to have this auto-message "trigger" On an anniversary.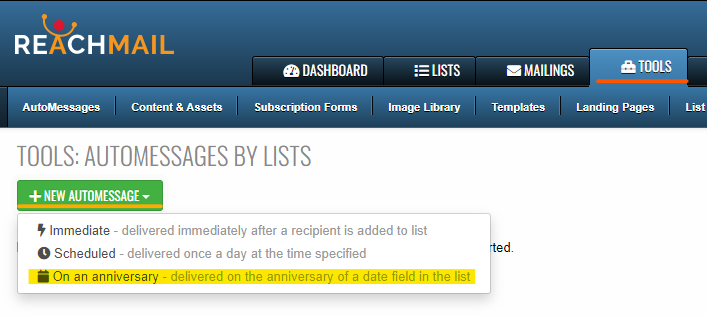 STEP 3
The next step is to tie together the list, trigger, and message you wish to use for your AutoMessage
LIST
Select this list where the date/anniversary is stored.

TRIGGER

After the List is selected, you can modify the trigger to send on the Day, Week of the year, or month of the date column you choose. Then you can adjust the time of day you would like that message to be sent.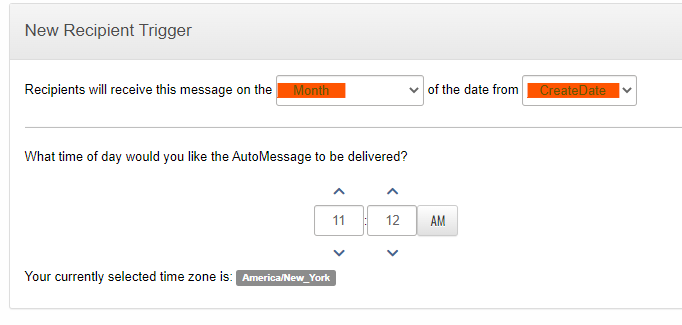 MAILING
Once Your message is set up the way you would like then click Save in the upper right corner to create this auto message

STEP 4 -CRITICAL
The default setting for all AutoMessages is off. You must turn ON this auto message for it to send