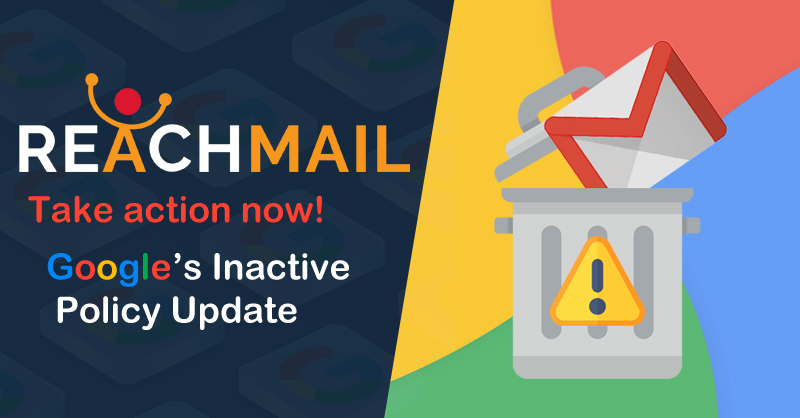 Google's recent announcement could shake up your email marketing approach! They are updating their inactivity policy, impacting accounts that haven't been used for two years across all their services and products.
The world's most popular email service, Gmail, has not purged inactive accounts like other major companies. Deliverability rates may suffer when this happens - make sure you're prepared!
Read more to determine if and how this will affect your email marketing.
Actions You Can Take Right Now
1. Email Hygiene
ReachMail offers the best value with our automated list cleaning. Email hygiene via list cleaning is the quickest way to remove problematic addresses. We partner with data hygiene and validation industry leaders to provide accurate and transparent results.
2. List Maintenance
Using ReachMail's List Maintenance tool, you can proactively address the policy change and possibly avoid its effects. Since Google is focusing on inactive accounts, you should prioritize engaging with disengaged recipients.
3. Re-engagement Campaign
ReachMail's Sending Optimization algorithm intelligently spreads out the campaign's sending for maximum deliverability through an exclusive algorithm. You can target your Gmail recipients with a re-engagement campaign if you don't have enough engagement data or haven't mailed to them in a long time.
Google's Updates & How It Affects Email
The big question is how this change will affect Gmail delivery for your email marketing. Accounts using sign-ups from the past year are exempt, but action is required by year-end for those with a marketing list spanning several years. Google's detailed blog post outlines the changes, but these are the key points:
Google will send reminders to inactive accounts and recovery email addresses, targeting those idle for two years.

Inactive accounts haven't done the following: read or send emails, use Google Drive, watch YouTube videos, share photos, download apps, use Google Search, or sign in with a third-party app or service.

Having an active Google account can keep your Gmail email valid.
You can click here for a complete list of exceptions to Google's policy. The impact on deliverability is still unknown and will depend on many factors.