ReachMail accounts can be easily hooked into your social media accounts to share your message across all your communication platforms. Once linked, your mailings will be posted to your social media accounts as short links to the web version of the mailing.
To activate a social media link, click the Account tab and select Social Media from the sub-navigation underneath Campaign Settings.



Then you will select Add Social Media Account and select from the dropdown of social media options.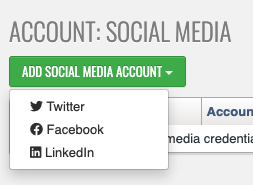 This will take open the service's login screen in a new browser window. Enter your user id and password and approve the requested account access. As soon as the link is complete, the window can be closed.
Your service should now show as "Active" in the status field and a test option will appear. Test the service and you should see a short link posted to your social media account. It's safe to delete this link once you're satisfied with the test results.
***Keep in mind, that if you ever change your social media password, the existing link will be discarded and you will have to relink your ReachMail and social media accounts.***