ReachMail's spam checker tool is a simple feature built to help you analyze your message content in the same manner as a receiving Email Provider. The features uses the SpamAssassin and Barracuda content analysis engines to give you insight into the way message filtering appliances view your message.
To trigger the spam checker tool select the 'Run Spam Checker Tool' option from the mailing's action menu:

Once selected, the content is run through the SpamAssassin and Barracuda filtering engines for content review. Scoring tallies up from 0. Each mark on the analysis is given a score. Higher scores for a particular rule indicate a more significant issue. As a general rule of thumb, total scores below 4-5 tend to be okay. Anything above 5 and you should consider re-working the content. Messages with a score above 10 should not be delivered.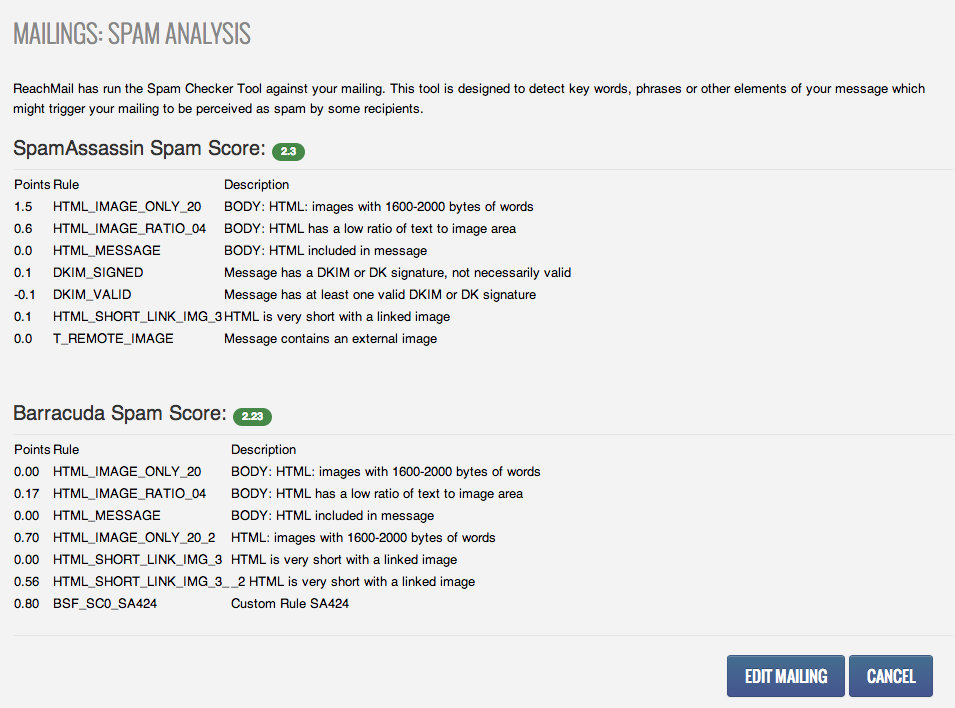 While the SpamAssassin analysis tends to be a bit more obvious, in this case, the results are quite similar. Note the final rule shown by Barracuda: "Custom Rule SA424". Barracuda is deliberately opaque with its use of these internal custom rules and it is often impossible to know exactly what they mean.
If you ever need assistance deciphering the Spam Checker's analysis, please feel free to email support@reachmail.com