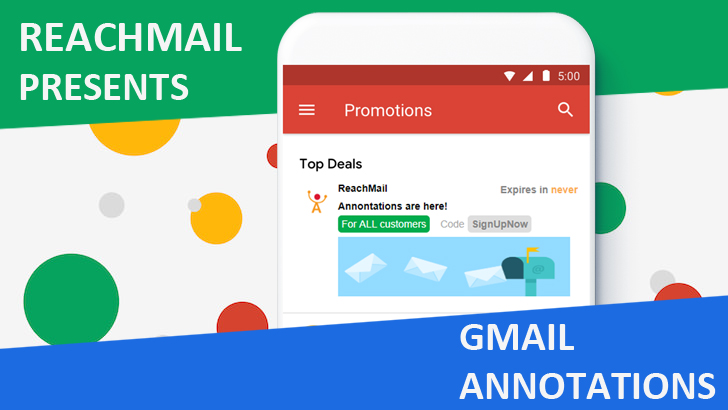 Get up to date with all the new features that ReachMail has to offer. Make your next email standout with Annotations, create a Email From An Email by simply sending yourself the content, and paid customers are able to choose alignments on their headers & footers. ReachMail strives to be constantly creating new simple to use tools for you to get the most out of your email marketing.
New Features
Annotations
Annotations are used to manage Gmail Promotions Tab markup. This markup allows for a condensed version of your email message to be bundled at the top of the promotions tab in the Gmail iOS and Android apps. For more information and highlights see the Gmail Promotions Tab Guides.
Email From An Email
Create a mailing in your favorite email editor and import it to ReachMail by sending your message to a unique account email address. We quickly convert the text and images in your message and allow you to create a Mailing from it easily.
Header & Footer Alignment
Paid accounts get access to being able to choose the alignment of their header and footer. This allows you to choose between center, right, and left alignments. This choice applies to each specific mailing so that you can ensure your alignment matches the design of your content.