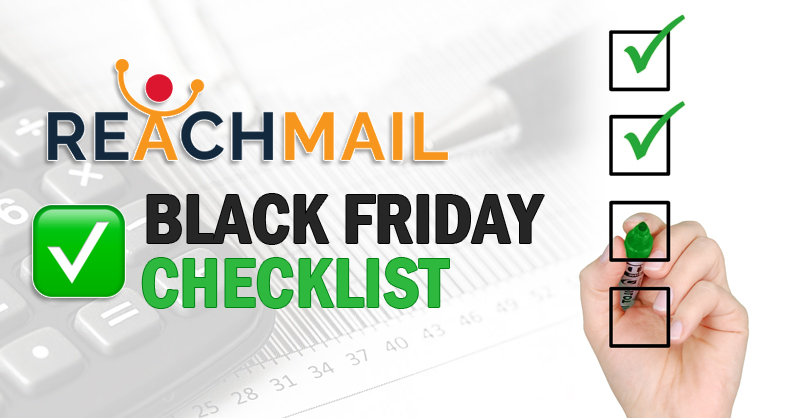 With ReachMail's tools at your fingertips, you'll get the upper hand for Black Friday 2020. The holidays are right around the corner, make sure you're ready with our quick checklist. Customers are hungry for deals this year, more than ever. Check off each of these to ensure you're meeting their expectations.


⬜ Start Early
Every year Black Friday starts earlier and earlier. Half of the battle is being the first to the battlefield. Consumers are desperate for deals and many of them will buy on a first come, first served basis. The week before and after Black Friday is crowded, so get on your clients' mind when fewer companies are fighting for attention. Prepare right now on the offer you'll be promoting, getting that offer in front of your clients, and having a marketing plan while the offer is happening.


⬜ Clean Your Data
Hygiene scans always help improve inbox ratings and engagement. These are especially crucial on big email marketing days like Black Friday. Make sure you're putting your best foot forward. Segment your older data as a cleaning priority. Sending your offers to spam traps and unengaged recipients can destroy your first impression. Getting a list cleaning and removing disengaged recipients is recommended for the best results. Sending to a cleaned list will give you a better shot at the inbox over your competition. There are never any guarantees on Black Friday, but every advantage counts.


⬜ Segment & Target
Segmentation goes hand in hand with cleaning your data. Once you've tidied up your data, make sure you're sending the right offers to your customers. For instance, if someone has shown interest in buying a specific product in the past. Offer them a more personalized offer for that item at a discount. Targeting during Black Friday can be the difference between life and death of your sale. Make sure to engage frequently but not constantly. Track the individuals who are using your code and those who are not.


⬜ Use Engagement & Revenue Offers
Engagement offers reward the individual for completing an action to receive a discount. A revenue offer is a straight sale. For instance, offer a sign up form to receive a special Black Friday coupon, but also advertise the current products that they can purchase instantly. A mixture of these types of offers can allow you to double your revenue. Make sure to include these offers before and during Black Friday. The holiday season allows for more aggressive marketing tactics.
Putting It All Together
Start early by sending out a mix of engagement and revenue offers to your clients. Entice new people to sign up to receive a discount code for the upcoming Black Friday promotion. Make sure the offer is timely and time sensitive. Setup an Auto Message to send your Black Friday coupon code immediately upon sign up. Make sure the coupon code has a clear begin and end date.
Before the begin date
Before the date has come send the coupon code to all segments, even those that subscribed previously and did not take advantage of signing up for the coupon code. Make sure to include the discount code, but also show off the top selling items.

Recipients can decide to buy now if they don't want to wait for the Black Friday discount to kick in. Make a point of mentioning dates in the content to give recipients a sense of urgency.
After the begin date
After the coupon code is out in the wild make sure to track engagement on your messages. Send frequent emails promoting and emphasizing the expiration date to individuals who have not used the code or have not opened or clicked on the message. Don't repeat the same email content over and over again. Make sure you're putting time and effort into re-emphasizing the promotion. Do not to overwhelm people with too many reminders.
Engaging with your clients early and during is important to keep your offer at the top of their mind during the holiday season. Segmenting and targeting is crucial to retain customers and to effectively market. The worst thing you can do is send countless reminders. Keep your engagement limited but effective.