ReachMail's automatic List Warming tool allows you to warm a list of over 50,000 records. This tool segments your list to increase the volume gradually over time. Allowing you to establish a positive sending reputation. List warming works best when following best practices.
This tool is only available to Pro plans. Please contact us, if you would like to upgrade your account to access this feature.
List Warming can be found underneath the Tools tab and selecting the List Warming option. This will bring you to a new page where you can select your List, choose the Mailing content, optionally add a suppression list, and choose your Warming Schedule.
The first step is to select the list you want to warm. The list needs to be over 50,000 contacts to be qualified. If you have a smaller list it is not eligible for the warming process. Once the list has been selected click on the Save and Continue button.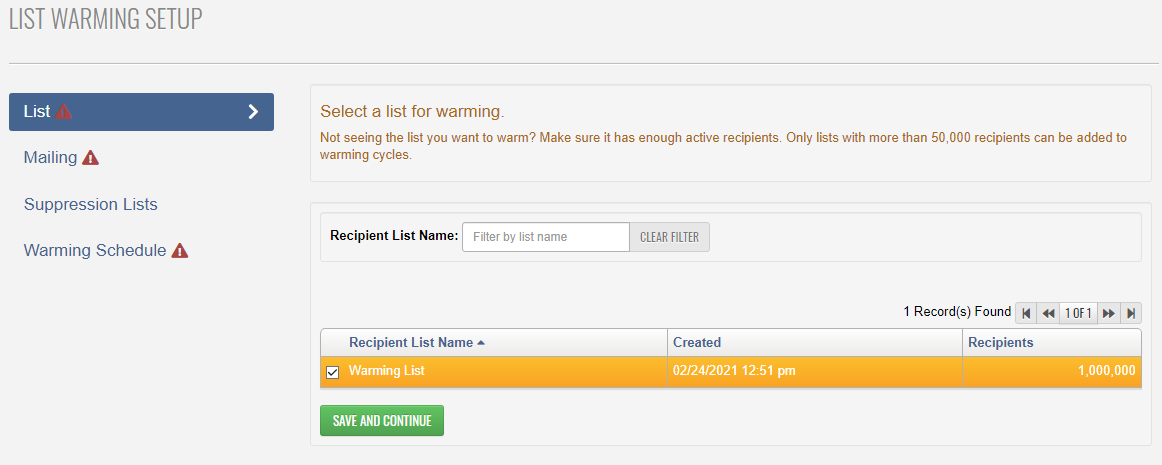 After choosing your list, you'll be brought to select your Mailing content. This will show a directory of all the mailings available in your account. When you've chosen the Mailing you want to use select the Save and Continue button to proceed.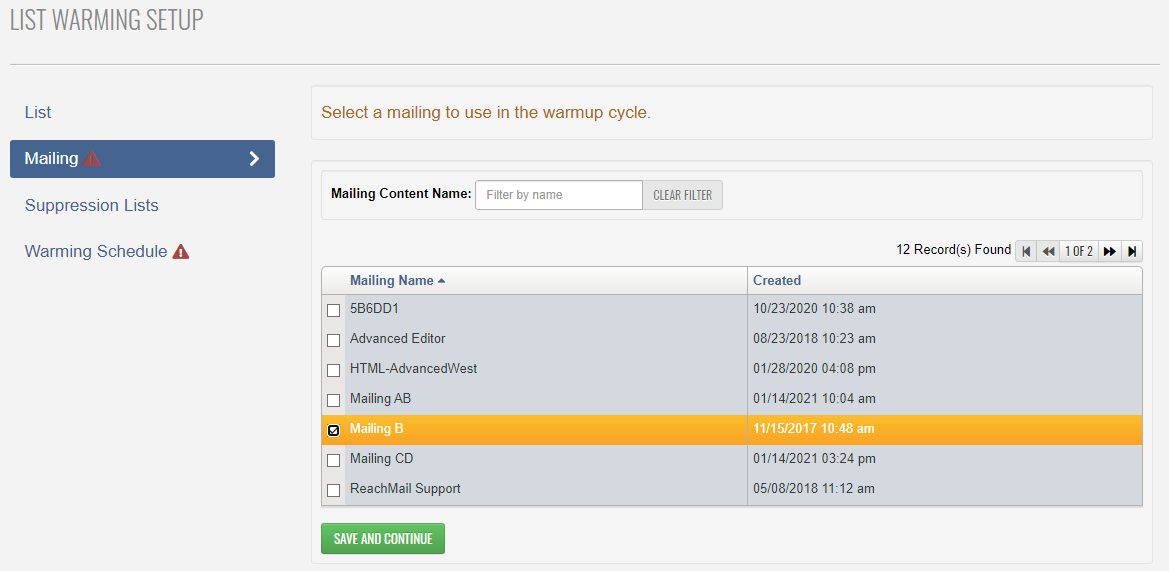 The next page you'll be brought to is to add a suppression list. The suppression list is an optional step and is only needed if you want to prevent specific individuals from receiving this mailing. You can select a suppression list and click Save and Continue or just click Save and Continue to skip this step.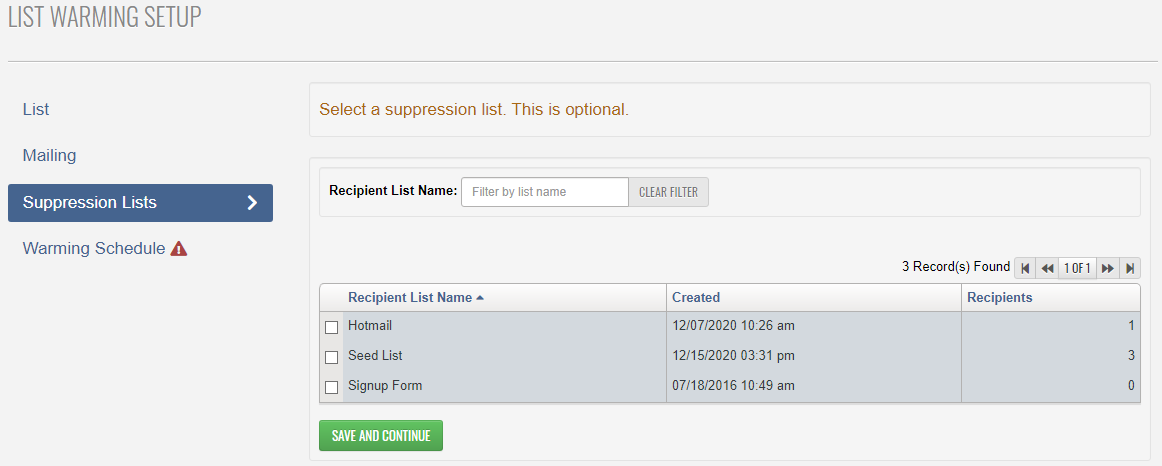 The last section you'll need to fill out is the Warming Schedule. The warming schedule determines how fast you warm your list.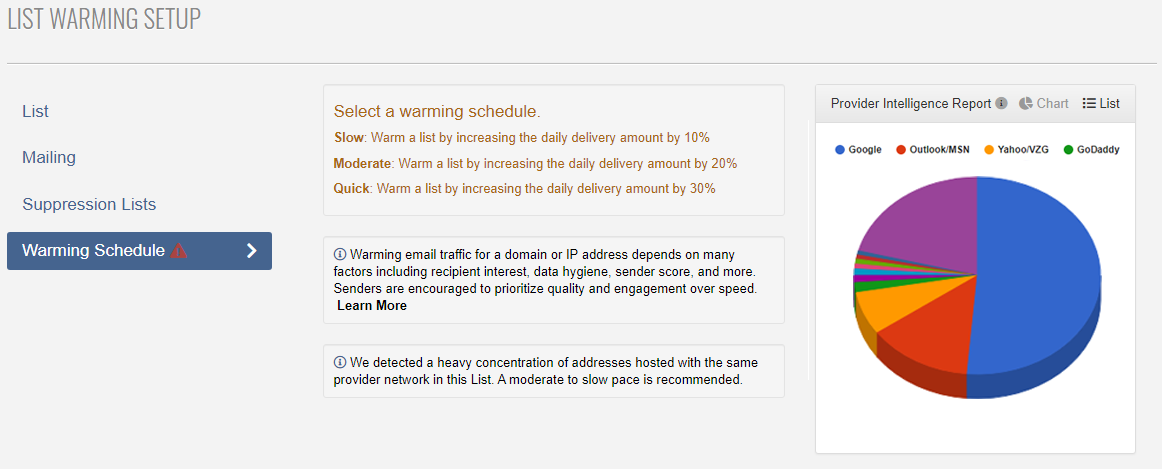 The warming speed options you're able to select are:
Slow: Warm a list by increasing the daily delivery amount by 10%.
Moderate: Warm a list by increasing the daily delivery amount by 20%.
Quick: Warm a list by increasing the daily delivery amount by 30%.
Custom: Select your own custom starting volume and percentage increase.
Warming email traffic for a domain or IP address depends on many factors including recipient interest, data hygiene, sender score, and more. Senders are encouraged to prioritize quality and engagement over speed.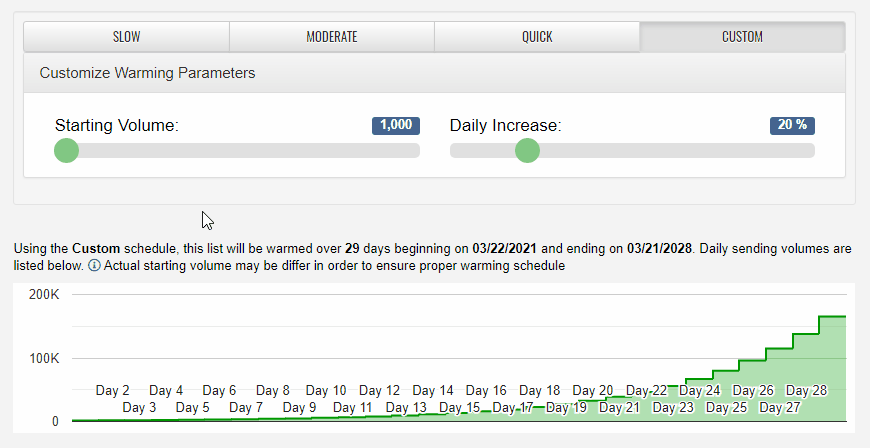 Additional details will be presented on the List Warming page to give you a better understanding of your list details. The Provider Intelligence Report gives insight into which Email Provider handles the Email for each domain. This can be helpful as all domains accept mail differently. You'll also see a warning if we detect a heavy concentration of addresses hosted within the same provider network.
The last thing you'll specify is the Special Instructions and Start Date. The Special Instructions include the option to Skip Weekends for deliveries. Whereas the Start Date allows you to choose the specific day and time you want your list warming to begin.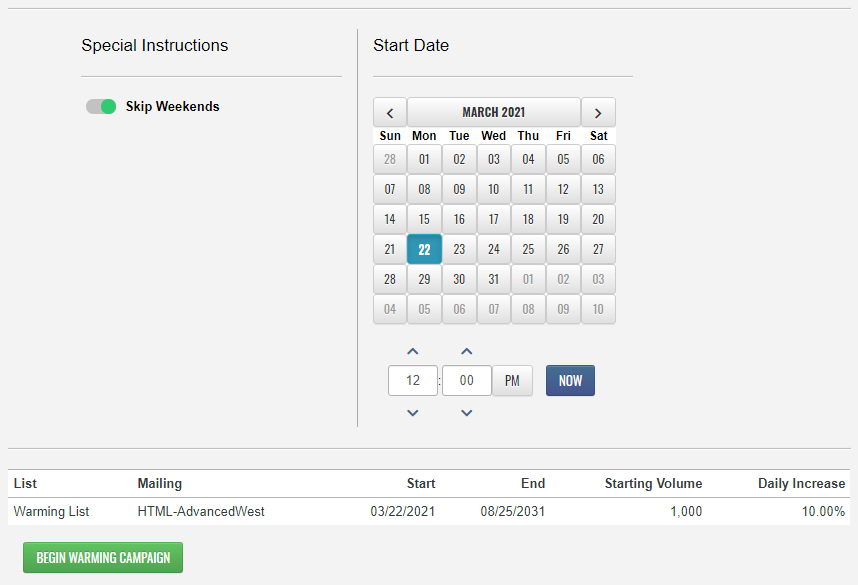 Click on the Being Warming Campaign to start the List Warming process. Once your start date has been reached the warming process will begin sending campaigns as instructed. Keep a close eye on your reports to track the warming process and ensure the results are trending in a positive direction.
List warming is not a one size fits all solution. Contact us to discuss your list warming strategy and hear what we advise given the specifics of your business. If you would like to learn more about list warming best practices, click here.