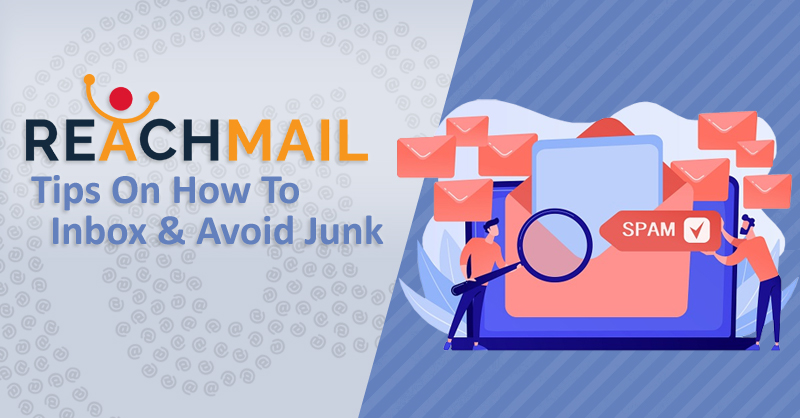 If you are engaged in any kind of personal or business activity that involves bulk email delivery, you need to know how to get the most out of your emails to maximize results. That means keeping your emails out of the junk folder and in the inbox. We'll look at reasons why emails go to spam, how you can spot changes and be proactive, what you can do to prevent or recover from problems, and the ways ReachMail helps its senders keep their emails in the inbox. First, though, let define spam clearly.
A quick side notes: this post revisits a popular topic that we've covered in a previous post.
The Definition of Spam
Spam is not a content issue, but instead a matter of consent. Spamhaus provides a detailed explanation of this definition which can be summarized as "A message is Spam only if it is both Unsolicited and Bulk."
It is important to start with a clear understanding of how the receiving end thinks about spam emails. Ultimately the decision to accept (deliver) or deny (bounce) an email and whether that email is put in the spam folder or the inbox is entirely up to the network receiving the emails. Laws that govern email like CAN-SPAM, CASL, or even GDPR are largely irrelevant to the question of spam folder delivery. Networks filter emails to best serve and protect their customers from fraud and abuse. In so doing, mailbox providers implement far more stringent policies than anything written into law.
Technical Definition of Spam and Explicit Consent
Taken from Spamhaus:
An electronic message is "spam" if (A) the recipient's personal identity and context are irrelevant because the message is equally applicable to many other potential recipients; AND (B) the recipient has not verifiably granted deliberate, explicit, and still-revocable permission for it to be sent.
(A) defines Bulk email delivery.
(B) defines the type of consent that is required by which a spam evaluation is made.
This requirement of Explicit Consent explains why third-party email lists, whether purchased, leased, or obtained through any form or indirect consent, will often run afoul of spam folder delivery. Explicit Consent is only obtained when recipients opt-in to receive an email directly from you.
Why Do Emails Go to Spam?
Many factors are involved in any network's decision to filter email into your recipient's inbox or spam folder. Each network is slightly different from the other, but the general theme is that positive recipient engagement is central to the entire process.
How to Measure Email Delivery Success Accurately
Email delivery results will vary somewhat from industry to industry, but the following average delivery rates can be good indicators for measuring success.
Cross-Industry Averages for Engagement Metrics
Average open rate: 18.0%
Average click-through rate: 2.6%
Average click-to-open rate: 14.1%
Average unsubscribe rate: 0.1%
open rate - the measure of how many recipients opened. (Opened / Sent)
click-through-rate - the measure of how many recipients clicks. (Clicked / Sent)
click-to-open-rate - the measure of how many openers also clicked. (Clicked / Opened)
unsubscribe rate - the measure of how many recipients unsubscribed from this email. (Unsubscribed / Sent)

Note these tend to fall under the long-held general guidelines that have remained consistent for many years: Open rates above 15% and Opt-Out/Spam rates below 0.1%.
Focusing on the Open Rate
Focusing on the open rate helps you match your email delivery to the best practices and guidelines listed at each network. Networks want you to send to recipients that are interested in the emails. They want their users to enjoy checking their email, not get annoyed digging through the spam. Users that get too much spam tend to abandon their email accounts too. Be careful where you source your email lists and how long you keep recipients around that never open. If you keep addresses around forever, you might be at risk for recycled spam traps and other list fatigue problems.
The more email you send to disinterested recipients, the more likely it is that they'll interact in negative ways, like reporting your messages as spam, deleting them, or even reporting them as abuse listing providers. Check out Google's guidelines for sending to gmail.com.
Networks like Google will penalize senders for continuing to send straight to the spam folder as well. The lower your open rates, the worse things can get if you don't take action quickly. List Cleanings and regular use of the Engagement Scanner tool we offer and quickly work on these problems.
How to use Bounces as a Call to Action
You can also use bounce rates to understand better why email is being sent to spam. Hard Bounces are invalid emails, but Soft Bounces can vary widely in reason. As is the case with filtering email into the spam folder, each network will issue soft bounces somewhat differently. Still, generally speaking, the following guideline can offer useful benchmarks across all traffic.
Hard Bounce Threshold
1% - Hard Bounce rates, or percentage of invalid email addresses in your lists, should be kept below 1% and as close to 0% as possible. Tracking changes in your hard bounce rate can help you prevent aging email data from becoming a big problem. If your hard bounce starts to climb from its current levels, use it as a call to action to investigate further.
Soft Bounce Thresholds
5% - Some amount of soft bounces may be unavoidable and not all soft bounces indicate a problem. Soft Bounce rates below 5% indicate that no networks are not identifying your traffic as problematic.
10% - A 10% or higher soft bounce may indicate that some networks are flagging your traffic as problematic. Take stems to increase targeted segmentation, improve data hygiene, etc.
15% - At least one network is identifying problems with your traffic, or many networks are starting to flag messages. Adjustments you be made imminently to avoid further escalation.
30% - Above 30% and some networks may be placing all or the majority of the messages they accept in spam and rejecting the rest.
Soft Bounce thresholds can be used as a call to action when viewed in the right context. Open rates are important but they do not paint a complete picture by themselves. Delivery blocks are generally levied by a network in response to abusive/unwanted email. Networks often throttle inbound emails, delivering some to recipients to gauge response rates and interest. If enough of these recipients respond by clicking the spam button or interact in other negative ways, the messages may be placed in the spam folder or rejected (Soft Bounced) in order to protect their users from spam. As such, removing soft bounces provides no remedy to the problem at hand, and often leads to the loss of valuable and potentially interested recipients in the process.
Using the Compare Campaigns Reports feature is a great way to see these open, click, bounce, and unsubscribe rates as they change over time too. Spotting an increase in soft bounces can be the first step towards knowing where and when to take action.
Target Email Delivery Metrics
The following targets should be understood as industry averages and may differ slightly from sector to sector. Especially for open rates, senders are encouraged to aim for open rates above 25%-35% as often as possible. Senders regularly attain 50+% open rates on targeted offers. When meeting or exceeding these metrics below, it can generally be inferred that your messages are arriving in the inbox without issue.
Open Rate 15% - 20% or higher
Soft Bounce Rate below 5%
Hard Bounce Rate below 1%
Spam Complaint Rate below 0.1%
Parting with Old, Disengaged Email Data is Necessary
It can seem unpleasant to hear that parts of your audience are no longer interested but we like to think of it a bit differently: You're busting your butt to provide a great service! Some people clearly recognize that too! Those are the openers and clickers. Part of growing your audience is taking strides to retain the existing customers of all interest levels, but what's wrong with giving preference to those that are most interested? Don't be afraid to set aside customers that stop opening and clicking for a period before trying to re-engage them.
Recognizing that recipients are individuals with their own preferences and tastes that can change over time helps you interact with your audience on their terms. The goal of the re-engagement messages should be to drive an interaction like a reply, link click, etc. Sending to recent openers will improve inbox placement. Sending the non-revenue, engagement driving offer after a few weeks of improving inbox rates helps you re-engage more recipients.
At some point, after reasonable attempts have been made to re-engage a recipient it is imperative to remove old email data permanently from your email lists. Failure to remove old email data in a timely manner can result in the collection of recycled spam traps and other old data markers that networks use to identify and block spam. As a general rule, if an address has been inactive for more than a year, it may be a potential threat to delivery results and reaching the inbox.
The best delivery results are achieved by marketing to recipients on their own terms and minimizing the efforts wasted marketing to those that have already lost interest. Prioritizing offers to the most interested and removing the old addresses that never respond can be facilitated in many ways like Tags, Preference Centers, Auto Messages, and Automated Follow Up emails.
How Networks Fight Spam
Networks use many tools and subversive tactics to identify, filter, and block spam email. One of the biggest risks of sending to third-party email lists is that some spam-fighting networks will seed their spam traps into lists that data brokers sell. Open sign-up forms are targeted by spambots to check for COI (confirmed opt-in) consent as well. Some spam traps are placed on websites but hidden so that people that scrape sites for addresses will collect them in their lists. These kinds of spam traps are referred to as Pristine Traps.
Networks recycle abandoned email accounts too. These are called Recycled Traps and can occur when senders fail to remove non-responders in a timely manner. Recipients that opted in a long time ago, but have since abandoned their email addresses may be recycled into spam traps and used to identify spam.
You can collect both Investigative Traps even if you never buy an email list. Running a COI sign-up form, and using ReachMail's SignUp Shield services help protect you from traps before you send. Even if you don't use ReachMail's sending services or sign-up forms, you can still integrate our List Cleaning services via our Zapier integration.
Networks also use metrics like Hard Bounces above 1%, or Spam Complaints above 0.1% to place the email in the spam folder. Content evaluation still plays an important role for many networks, though these methods are informed by machine learning networks nowadays, and no longer bear much resemblance to the simpler spam filters of the past that focused on flagging specific keywords.
How to Keep your Emails in the Inbox
Keeping your emails in the inbox requires paying attention to campaign metrics. Compare your reports and keep track of any changes in the data. If soft or hard bounces are going up or open ratings are going down, take this as a sign to readjust. Remove those who are not opening or clicking and ensure that the offers you're sending are being received positively. If you're receiving spam reports on your campaigns or a high number of opt-outs, it may be a sign that the content or permission of your list data is the issue. Keep close attention to opens and clicks to track what interests your audience.
If you are engaged in any kind of personal or business activity that involves bulk email delivery, you need to know how to get the most out of your emails to maximize results. That means keeping your emails out of the junk folder and in the inbox. We'll look at reasons why emails go to spam, how you can spot changes and be proactive, what you can do to prevent or recover from problems, and the ways ReachMail helps its senders keep their emails in the inbox. First, though, let define spam clearly.