Already have an HTML file to use? Or do you wish to edit/create HTML on your own? Then our Advanced Editor is for you. To access the Advanced Editor, navigate to your Mailings tab, select the New option, and choose With Advanced Editor.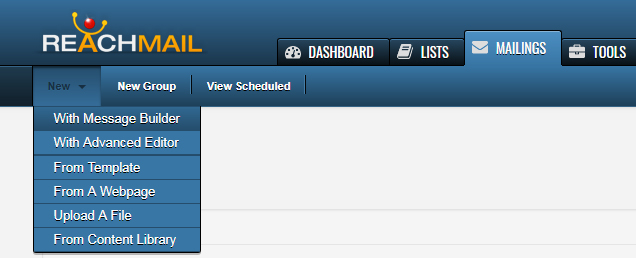 When you select any of the options from the New sub-navigation. You will be presented with the initial Details tab.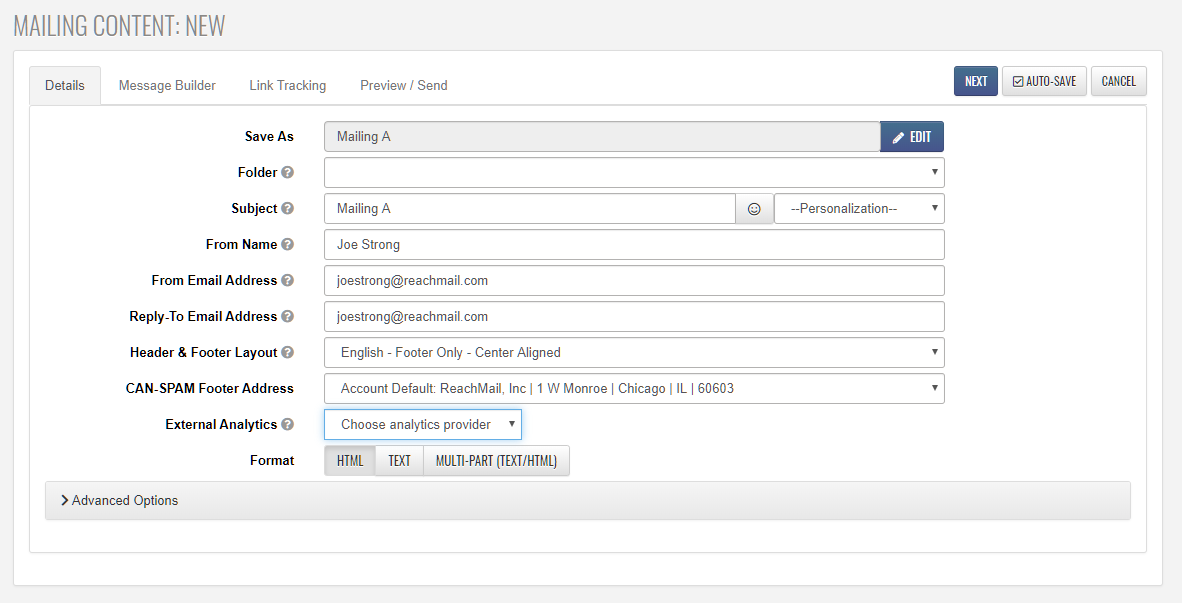 All options in this section are required.
Save As: The mailing name, this will be the visible name in the list of Mailings in your account.
Folder: Select the folder the mailing belongs to or leave empty and mailing will go to the
--Not assigned a folder--.
Subject: Mailing subject.
From Name: The friendly alias of your e-mail address, i.e. 'Customer Service', 'Newsletters'.
From Email Address: The address responsible for the mailing.
Reply-To Email Address: The address to which responses should be directed.
Footer Address: Select from different compliance addresses if you're managing multiple brands in your account.
Additionally, paid accounts will have the option to select the alignment of their footer & header on a specific mailing. This will be available within the Advanced Options. The image below demonstrates where you can change to those footer options.

After clicking Next, you'll be presented with a blank mail editor. This editor is similar to most visual content editors such as Microsoft Word.
The image below highlights a few of the commonly used buttons in the editor toolbar, including the image manager, link manager, and special ReachMail functions.

Remember to use the Save button near the bottom right of the editor screen frequently.
When editing is finished, click the Next button to preview and test your design.