List Maintenance was designed to make managing your list easier. You can run the list maintenance on one list at a time or many.
First, you can view your engaged vs. disengaged data for selected lists. You can adjust the days since the contact last engaged by using the buttons at the top of the right-hand side.

Next, simply check the box(es) next to your list names and click the sweep button. The list maintenance performs bulk actions on any list(s) being reviewed at the time. Your Estimated contacts will appear on the right side as you select them.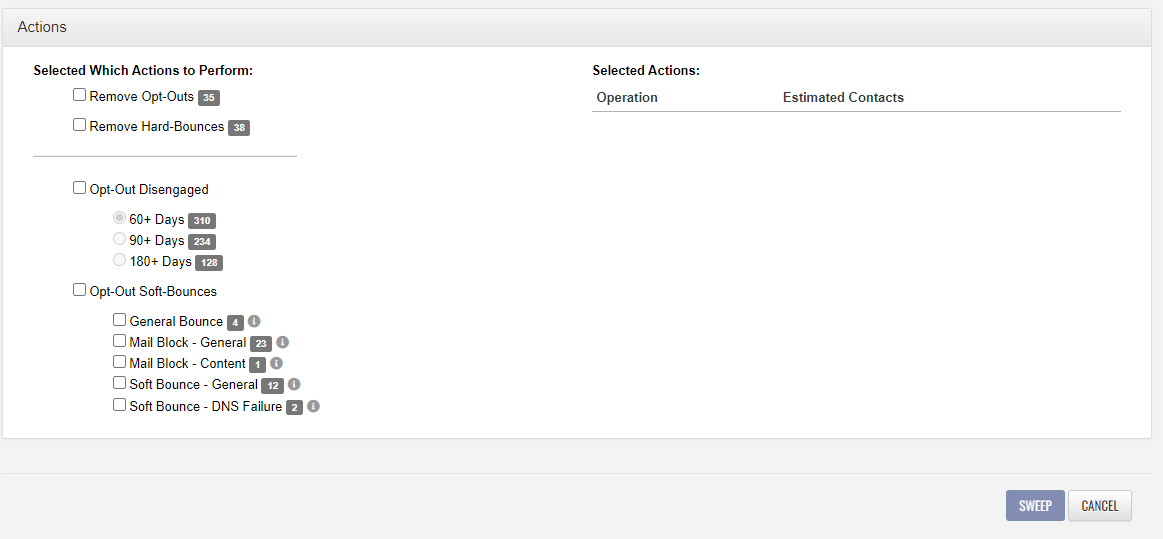 Remove all recipients in the list flagged as a hard bounce. & Remove all recipients in the list flagged as opt-outs - These sections will permanently remove hard bounces (invalid addresses) and opt-outs from your list. This step is optional. Hard bounces and opt-outs are marked as inactive recipients. We keep them in your list so you can export the data for your own needs, but inactive records are NOT emailed in your campaigns, nor do they count against your list size total for billing purposes.
Opt-out Disengaged - This will opt out those who have not engaged with your selected engagement days. They will not be removed from the list. Mailing those who do not regularly engage with your content could cause deliverability issues. Mailbox providers are concerned about their customers behind happy with what lands in their inboxes.
Opt-out select Soft Bounces - This part allows you to deactivate (opt-out) soft bouncing addresses in your list. While soft bounces are transient, it is wise to frequently remove abandoned email addresses, lest they be reclaimed and turned into spam traps. Early warning sign bounces can be labeled as Soft Bounce - DNS Failure or Soft Bounce - Mailbox Full. We recommend that you opt out of these last two types of soft bounces. Especially the Mailbox Full addresses, as they can be reclaimed and turned into spam traps. Check out the bounce guide for more detail on soft bounces.